Some of you may be laughing at the fact of even worrying about what an extra 100 dollars a month can do for you, but in this day and age it can actually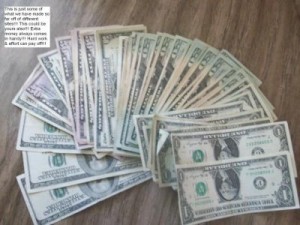 help out a lot. The key to saving this extra money is to put it into something before it hits your wallet. If it ends up in your wallet, then it's pretty much gone by that point. If not, put it away and devise some kind of plan in which you will be able to utilize it to make even more money.
So the key it all is to put it in some kind of fund or savings before you put It in your wallet.
First off, what can we do for some Extra Cash? Good question, there are numerous ways you can go about this. I will give those of you who like to be on your computer a lot a legit way and totally free way to make some Extra Cash. But before I do let me explain what an extra 50-100 dollars can do for you, and what you can do with it before it's in your hands.
Pay off Some Debt
Many people end up paying the minimum payment on credit card bills, which really doesn't do anything at all if the interest is really high. You're pretty much paying your interest all the while continually building up the debt. So by adding an extra 50-100 dollars on top of what you pay as a minimum, you actually stand a chance at cracking the problem, and will eventually decrease the debt you have incurred.
Invest in something
A good way to build up some money is to open up a Roth IRA or some kind of savings account. 50 to 100 dollars extra may not seem like much, but figure after 20 years or so you should have a nice extra chunk of change.
Invest in a small side business
You won't be able to open up a fortune 500 company or anything on a grand scale from the get go. But you could invest in a MLM company, or invest in a website, blog or something in that area without spending your regular cash.
Invest on a rainy day fund
Crap happens without a notice, that's just the way life works. Sometimes we don't have enough money to cover the cost of a surprise problem and we end up having to use a credit card. If you have a little side fund, it helps to soften the blow a little bit. You may just surprise yourself and have enough to cover the cost of the expense.
So what do I have to offer as a means to make some Extra Cash?

FUSION CASH!
FusionCash is a legit way to make a few extra bucks each month. Generally you can make anywhere from 50- 200 a month with some work. Yes some work!!!
FusionCash is fun and rewarding at the same time. You can play games, take surveys, chat on the forum and much more, all the while getting paid to do it.
\
This Isn't What FusionCash Is
FusionCash is

NOT

a way to get rich, or even supplement your main income.

FusionCash is

NOT a get rich quick scam

, like anything in life it takes some work too get some results.

FusionCash is not a sit back on your Facebook account and talk about random nothing while you get paid for a system too do the work for you.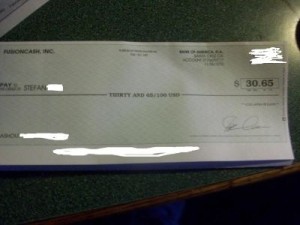 THE BEST IS THAT IT'S 100 PERCENT FREE!!!!!
Is Fusion Cash a scam?

No we have been paid several times by them, and have had NO problems with this site.
The Check on the right was my first check I recieved, since then I changed it to Direct Deposit, that way i'm not tempted to spend the money. This was just trial so when I hit the cashout range I did just that. I wanted to see if I would really get a check, and sure enough I did, and still continue to do so! This took me a little under 2 hours to do.
2. What about spam emails and calls? Don't worry, I created a simple walk-through that will save you time and effort. You can find the walk-through here FUSION CASH WALK-THROUGH, simply click the text link above this and start learning to earn.
3. Will i get rich? No, you won't get rich. But you will make some extra cash, and yes they accept countries outside of the U.S.A.


WAYS TO GET PAID
Get paid guaranteed with DAILY OFFERS!
These are some of the current Fusion Cash offers!
Paid To Click = $0.15
Paid to click are the easiest because all your doing is clicking 5 fusion cash links, waiting a little over a min then click redeem and you instantly get paid. It's not much but hey, every penny counts right!
GiveUsYour2Cents = $.75
Credited almost instantly when completed, you take a 10-20 min survey, once finished you will be credited
MyThoughtsCount= $1.00
Same thing as GiveUsYour2Cents but pays the most, its a 10-20 min survey that credits almost instantly upon completion.
MAKING MONEY FROM REFERRALS
Here is how it works!
You get a friend who signs up and confirms his/her email address you and get $1
Your friend completes their first offer you then get $2
Every time your friend cashes out you get $5 dollars each and every time they cash out.
Add FusionCash On Facebook = $1.00


Simply add them on Facebook and you will earn a 1 dollar! simple enough right?
Post A Photo Of Your Payment Or Of What You Bought To The FusionCash Forums = $1.00
THERE ARE MANY OTHER WAYS YOU CAN MAKE MONEY WITH FUSION CASH! BE SURE TO CHECK IT OUT!
---
You can sign-up for Fusion Cash by clicking the banner below!
AFTER SIGNING UP CLICK THE LINK BELOW TO HELP GET YOU STARTED!
CLICK HERE FOR HELP ON HOW TO NAVIGATE THE SITE!!!! >>>FUSION CASH WALK-THROUGH
GREAT SYSTEM ON HOW TO MAKE MONEY WITH SURVEYS… CLICK THE PIC BELOW FOR MORE INFORMATION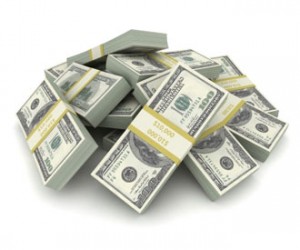 CASH 4 SURVEYS PROGRAM!!!!
Follow Nsearch4success
You are not authorized to see this part