I NEED HELP GROWING MY PLANTS!

If you live in a climate where from one day to the next it can be sunny and 75 outside, then the next day 30 and snowing, then this blog may help you out.
Sometimes living in the Midwest, the weather here can be a pain in the butt to spark some real plant growth. After many losses and failed attempts, I needed a way to grow my seedlings WITHOUT the chemicals and harmful additives.
After some searching I ran into this method. I did some tweaking here and there, I finally found a way for it to produce some great plants!
So whats the method?
Growing plants within a Grapefruit!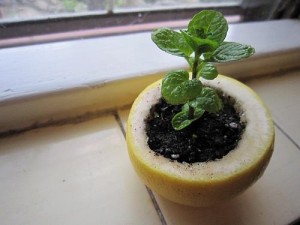 Why Grow Plants In Grapefruit Rinds?
One of the main advantages I found is that, you can control the climate and growing conditions to allow a new seedling to properly grow. I live in a climate that changes from day to day, and this climate can be a real pain if your backside if you trying to grow plants or start a garden. Another great reason is because your beginner pot is biodegradable. The nutrients inside the peel also help the seeds grow quicker and stronger. That way when your ready to transplant them to an outdoor location, they will be able to be self sustainable.
So how do we do it?
Step 1
First you want cut your grapefruit into 2 halves. Enjoy eating the grapefruit half's with a spoon and some cinnamon sprinkled on it first. Then once you're done clean out the rest of the insides with a spoon. Then get a small pocket knife or kitchen knife and cut out a small hole in the bottom to allow the water to come out. Don't cut it to big, then you will have pot soil coming out the bottom of your peel.
Step 2
Pick up some potting soil, make sure its free of any pesticides or any additive junk. Fill your grapefruit about half way up, do not fill it to the top, that was the first mistake I made. Then plant 1 or 2 seeds and place it in a location that gets lots of sunlight. Make sure the area is not too hot. A good way to keep track of this is to get a thermometer and place it near your makeshift pot. Then add a little bit of water, use common sense when doing this part, you will know how much is to much, or to little.
Step3
Be sure to move your plant around at night. If the location you leave it at in the day is real cold at night, you want to move it to a cool but not cold location in your house. Keep track of how much water you give it by writing it in a log, that way you can get a feel as to much is the best amount to put in it.
Step 4
Once the plant is growing well and it looks like the rind can't hold it any longer, then its time to take it outside. Look for an area that gets a good amount of sunlight. If you live in a cold climate, then put it in a large pot to grow indoors. You want to do this by leaving the plant inside of the rind and planting the whole thing in the ground. Make sure the Grapefruit rind is completely covered up. Then water and keep an eye out for it, with a little tender love and care, your plants will grow!
Follow Nsearch4success
You are not authorized to see this part